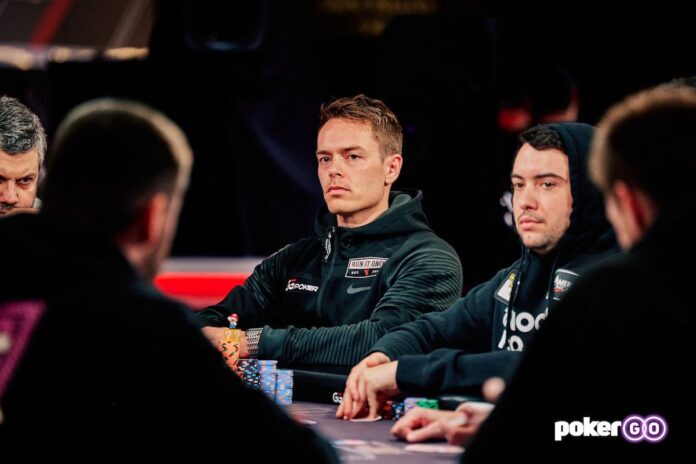 Espen Jørstad leads the remaining three players with one day remaining to crown the 2022 world champion.
A scintillating day of poker action saw the WSOP Main Event final table go from having an unprecedented 10 players to only three as Espen Jørstad built a powerful chip lead with one day to go to find a world champion. Elsewhere, Joao Vieira was one of three bracelet winners on the day with a super seven events in total taking place at Bally's and Paris on the day.
Espen Jørstad Builds WSOP Main Event Lead with Terrific Trio Remaining
The action at the final table of the WSOP Main Event was great from the off, with 10 players sitting down to battle it out for the $10 top prize instead of the nine at previous year's final tables. When the battle began, two players held a joint chip lead in Espen Jørstad and Matthew Su, but after the early elimination of Asher Coniff in 10th place for $675,000, everything changed.
Coniff was all-in with
and couldn't hold against Michael Duek's
, an unbelievable flop of
ending Coniff's hopes with two cards still to come. Coniff was full of gratitude at the end of his run, saying it was "pretty crazy to experience something so heartbreaking and heartwarming at the same time".
It took 100 hands to find the next player to leave and when they did, it was a shock exit, with Matthew Su going from chip leader with 10 left to on the rail in ninth for $850,675. Su shoved over Attenborough's raise with
but was well behind Philippe Souki's
, which held over the board of
to reduce the field to eight.
Souki may have finally found some hands, but that was to be his undoing. Picking up
, he was all-in for less than eight big blinds, and busted to Matija Dobric, whose
found Broadway on a board of
. Souki cashed for $1,075,000, the biggest prize of his career, admitting afterwards that he'd had "nine lives" to have made it so far, so didn't feel too bad about losing with aces.
Next to go was Aaron Duczak, as the Candian slid out of the reckoning with
. He ran into Michael Duek's
and the Argentinian won again after the board of
put Duczak through the cruellest of poker vagaries, false hope, as he busted on the river for $1,350,000.
It was Jeffrey Farnes who lost out in sixth place, the Blackfoot native all-in on a flop of
with
only to be called by John Eames with
. The turn
and river
counterfeited Farnes' pair in painful fashion and he crashed out for $1.75 million. With five left, it was the turn of Croatian Matija Dobric to bust, as he lost out for $2.25m with
shot down by Espen Jørstad's
, a board of
dooming the Croat on the flop.
It was John Eames who busted in fourth place, ending the day's drama as he earned $3,000,000 in the 186th hand of the final table. Eames three-bet all-in for 24 big blinds with
but was called quickly by Jørstad with
. The flop of
saw Eames hit his jack and gain more outs, but the
turn was not one of them and when the
fell on the river, the British player's dream was over.
"The all-ins are intense," he told PokerGO afterwards. "The stacks were very flat from the start, so fourth isn't a bad result."
With three men now left in the race to become the 2022 WSOP Main Event champion, Norwegian player Espen Jørstad has 298 million, with Australian Adrian Attenborough (149.8 million) and Michael Duek (72.1 million) chasing him down. Who'll win the $10,000,000 top prize? We'll find out tomorrow.
WSOP 2022 Event #80 $10,000 Main Event Final Table Chips/Results:                          
Espen Jørstad – 298,000,000
Adrian Attenborough – 149,800,000
Michael Duek – 72,100,000
John Eames – $3,000,000
Matija Dobric – $2,250,000
Jeffrey Farnes – $1,750,000
Aaron Duczak – $1,350,000
Philippe Souki – $1,075,000
Matthew Su – $850,675
Asher Coniff – $675,000
Arani the Champion in Event #81
Mo Arani won his first WSOP bracelet after beating Dutch player Johannes Straver heads-up for the $665,459 top prize in the $5,000-entry Freezeout Event #81. At an eight-handed final table that raced to a conclusion, Michael Katz was the first to leave when his
couldn't hold against Adam Hendrix's
 as a board of
saw Katz doomed by the turn.
Cliff Josephy was next to go, as 'JohnnyBax' lost two big pots in a row to bust, the last of which saw him shove ten bigs into the middle with
and lose to Straver's
to cash for $86,917. French player Francois Pirault was next to bust, losing with
against Peter Turmezey's
to cash for $115,122.
British pro Toby Lewis lost his seat in the top five as he saw his last seven blinds into the center of the felt with
. Arani had shoved from the small blind with
, but while Lewis made a good call, the board of
saw the eventual winner make a better flush than the one presented on the board, seeing off Lewis for a result worth $154,806.
After Adam Hendrix was dominated to defeat in fourth for $211,295, overnight chip leader Peter Turmezey busted next, the Hungarian losing out in third place for $292,665 when his
lost out to Straver's
. Heads-up, Arani had a roughly 2:1 chip lead, eventually winning once he doubled that chip lead.
All-in with
, Straver needed to hold against Arani's
, but the flop of
immediately put him well behind. The turn of
and river
saw the event ended in Arani's favor, earning him the top prize of $665,459, and relegating Straver to a runner-up finish worth $411,279.
WSOP 2022 Event #81 $5,000 NLHE Freezeout Final Table Results:
Mo Arani – $665,459
Johannes Straver – $411,279
Peter Turmezey – $292,665
Adam Hendrix – $211,295
Toby Lewis – $154,806
Francois Pirault – $115,122
Cliff Josephy – $86,917
Michael Katz – $66,638
Alsup All Over Event #82 in Deepstack Win
Richard Alsup got the better of Gary Whitehead heads-up in a Transatlantic battle for the gold, with Ari Engel (3rd for $126,233) and Marc MacDonnell (4th for $95,487) coming close. In what was a fast-paced final table, Alsup's win came after he returned from a bad beat with two tables left to make heads-up then win a war of attrition to claim his first bracelet and $272,065, by far the biggest win of his career.
WSOP 2022 Event #82 $800 NLHE Deepstack Final Table Results:
Richard Alsup – $272,065
Gary Whitehead – $168,093
Ari Engel – $126,233
Marc Macdonnell – $95,487
Ryan Jaworski – $72,759
Artem Metalidi – $55,849
Patrick Truong – $43,188
Frederick Brown – $33,648
Donny Casho – $26,413
Vieira Victory Earns Second WSOP Bracelet in High Roller
Joao Vieira came from behind to beat Lander Lijo to the Event #83 title as he claimed victory in the $50,000-entry High Roller event. In what was a battle between Spain and Portugal, Lijo had the chip lead in a bid to win his first-ever bracelet but let it slip to see Vieira's rail erupt as their man won the second bracelet of his glittering career.
Elsewhere at the final table, Galen Hall came third for $625,941, overnight leader Dan Colpoys finished fourth for $463,589, with Brian Rast failing to grab his sixth bracelet in fifth place for $347,658. Lijo ended up winning $855,631 as runner-up, with Fedor Holz (7th) and Stephen Chidwick (8th) failing to keep up with the overnight positions on the podium behind Colpoys. Vieira's top prize of $1,384,415 is in the top ten of non-Main Event prizes paid out at this summer WSOP in Las Vegas.
WSOP 2022 Event #83 $50,000 High Roller Final Table Results:                           
Joao Vieira – $1,384,415
Lander Lijo – $855,631
Galen Hall – $625,941
Dan Colpoys – $463,589
Brian Rast – $347,658
Sean Perry – $264,034
Fedor Holz – $203,107
Stephen Chidwick – $158,278
Alexandros Theologis – $124,974
Three Other Events End with Big Names Starring
In Event #84, David Bach (1,094,000) bagged the biggest stack in the $3,000-entry H.O.R.S.E. event, with Perry Friedman (985,000) on his shoulder at the end of Day 2. Others to make the top ten in chips with 22 players remaining from 179 who started the day included Kevin Gerhart (778,000) and Brazilian pro Andre Akkari (747,000). Gerhart has the most previous bracelets, with four already to his name.
WSOP 2022 Event #84 $3,000 H.O.R.S.E. Top 10 Chipcounts:
David Bach – 1,094,000
Perry Friedman – 985,000
Tomasz Gluszko – 982,000
Roberto Marin – 968,000
Mike Wattel – 843,000
Andrew Brown – 827,000
Joseph Thomas – 796,000
Kevin Gerhart – 778,000
Andre Akkari – 747,000
Richard Tatalovich – 738,000
In Event #85, A total of 929 entrants were whittled down to just 75 hopefuls who will aim to win gold after Day 1a with 1b taking place tomorrow. South African player Ahmed Karrim (1,695,000) has the chip lead, while Jennifer Shahade (920,000), David 'ODB' Baker (735,000) and Roland Israelashvili (500,000) all made the cut. Others who played but missed out on Day 2 included Phil Hellmuth, Daniel Negreanu, Barry Greenstein and Justin Bonomo.
WSOP 2022 Event #85 $1,500 The Closer Top 10 Chipcounts:                     
Ahmed Karrim    – 1,695,000
Raghav Bansal – 1,600,000
Sean Ragozzini – 1,550,000
Garrett Johnstone – 1,450,000
Tony Nieman – 1,285,000
Kazuhiro Shirasawa – 1,235,000
Teddy Cablay – 1,200,030
Neil Rauschhuber – 1,100,000
Jessie Bryant – 1,000,020
Ronnie Anderson – 935,000
Finally, in Event #86, the Six-Max NLHE event, Barry Woods bagged the chip lead, with 400,000 chips. He is followed by 2022 bracelet winner David Jackson (326,000), Ben Heath (311,000), Jared Jaffee (201,000), Brian Rast (131,500), Kristen Foxen (131,000), Erik Seidel (935,000), Scott Seiver (73,000), Chance Kornuth (59,500), and 2021 defending champion in this event Ben Yu (42,000), with 150 players surviving from the 349 entries.
WSOP 2022 Event #86 $10,000 6-Max NLHE Top 10 Chipcounts:                         
Barry Woods – 400,000
Ugur Secilmis – 378,000
Masashi Oya – 357,000
Pierre Calamusa – 333,500
David Jackson – 326,000
Eli Berry – 325,000
Johan Guilbert – 316,000
Ben Heath – 311,000
Christophe Panetti – 309,500
Craig Mason – 302,500
Fellow Tag Team bracelet winner and friend of Espen Jørstad, British poker sensation Patrick Leonard, advocated the Norwegian's preparation for the final table buy focusing on his friends.
Do you even meditate tho? 🇳🇴 pic.twitter.com/JR0LP1E94W
— Patrick Leonard (@padspoker) July 15, 2022
Matija Dobric was happy to take advice from any corner of the Thunderdome and immediately got to work.
I like Dobric #WSOPMainEvent pic.twitter.com/9ucWqP1Yux
— Patrick Leonard (@padspoker) July 15, 2022
Scott Seiver had to put any criticism to one side as he just sat back and enjoyed the action in a spirit that most appear to have shared this year.
Every year I usually live tweet the final table and am overly aggressive on my opinions about the hands but this year has been such a joy to watch that I'm just happy as a fan of poker to get to watch the action.
— Scott Seiver (@scott_seiver) July 16, 2022
PokerGO's Remko Rinkema highlighted on the best stare-downs of the whole series… from an unexpected source.
The cocktail server is about to get a read on Attenborough. pic.twitter.com/0H9mE6kJRy
— Remko Rinkema (@RemkoRinkema) July 16, 2022
Elite PokerNews photographer Danny Maxwell captured the British 'spirit' on the rail perfectly.
🎶"Shoes off, if you love John Eames."🎶 #WSOP #WSOPMainEvent pic.twitter.com/tfnzZQroB3
— Danny Maxwell (@MannyDaxwell) July 16, 2022
Jeff Platt was back 'in the field' after a bout of COVID truncated his run to the final table. Back in his suit today, however, Platt… removed his shoes in the line of duty.
Shoes off if you love John Eames, they say: pic.twitter.com/J8g1CrhXp4
— Jeff Platt (@jeffplatt) July 16, 2022
Official photographs courtesy of PokerGO, the home of live-streamed action throughout the 2022 World Series of Poker in Las Vegas.